Braces & Invisalign Team in Flagstaff
Meet the Northern Arizona Orthodontics Team
Our expert team is knowledgeable, friendly, and eager to guide you through the teeth-straightening process.
Check out how our front desk, clinic team, and treatment coordinator work together to help Dr. Peterson and Dr. Peppers meet and exceed your every need. We look forward to joining you on your journey to a new, more beautiful smile at our office in Flagstaff.
Front Desk
Our front desk team is here for YOU! Need to schedule an appointment? They've got you.
Need to make a payment? Give them a call. Have some X-rays that need to get sent over to or from your dentist? Yep. They're your people.
Have a pokey wire that needs to be taken care of?
Check on a referral?
Get checked in for an appointment?
Broken retainer that needs to be replaced?
Question for the doctor?
Check, check, check, and CHECK.
They know what is up. Our front desk team is knowledgeable, friendly and your point-people for all things orthodontics. They will point you in the right direction for any questions related to your orthodontic care. They are here for you every step of the way!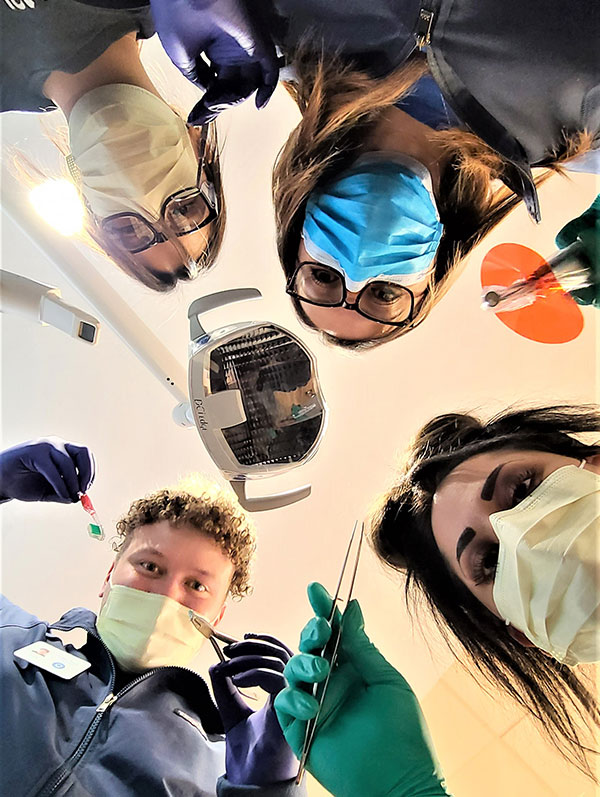 Clinic Team
From the moment your braces go on until the moment you are given your retainer — and all the adjustments in between — this is your Clinic Team! Our assistants are highly trained and skilled in the field of orthodontics.
They work closely with the doctor to make sure you are getting the best care possible and that your smile is on track. They're always learning about the latest techniques and technologies.
Whether taking the X-ray board exam or learning to take 3D scans, you can rest assured your clinical team knows what is up!
Treatment Coordinator
Our Treatment Coordinators (TC) is the main person that will help you with your first free consultation visit. This person works closely with our doctors and will help guide you through the exam process.
The TC is also there to help you feel comfortable during your visit. We know orthodontics is a big decision that often comes with big questions. We get that!
Our TCs are there to answer any questions you may have prior to starting treatment.
They're well-versed in all treatment options as well as complicated cases. And there isn't a lot they can't help you with.
If your case happens to be a little extra complicated and needs the coordination of several specialists, our TCs are there to make sure the communication and cooperation between your care teams are as seamless as possible.