Meet Your Flagstaff Orthodontists
Since Dr. Rob Caskey retired, his long-time friend, Dr. Eric Peterson, and his daughter, Dr. Emily Peppers, are carrying on the legacy of Northern Arizona Orthodontics.
Dr. Peterson and Dr. Peppers have maintained the fun atmosphere our community loves and offer cutting-edge treatment. That means your family will be smiling from start to finish!
Why has this amazing team of specialists dedicated their lives to bigger, brighter smiles? And what do they do when they're not in the office? Scroll down to find out!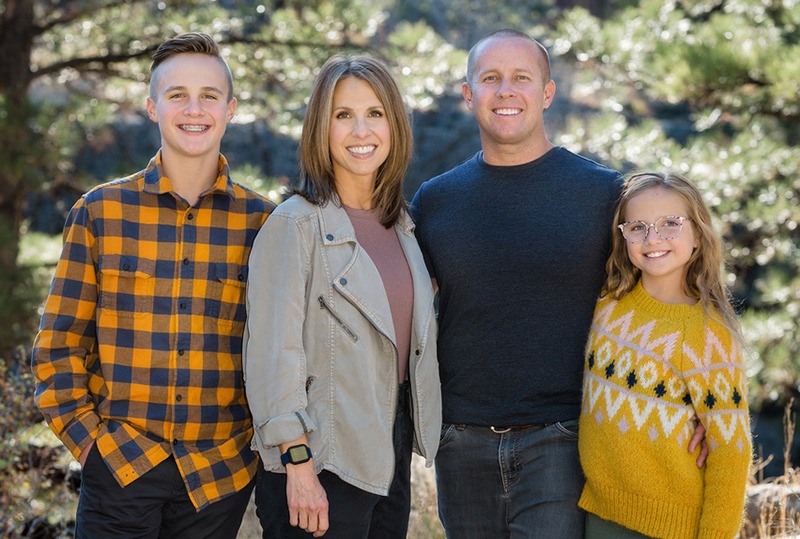 Dr. Eric Peterson
Education & Experience
Dr. Eric Peterson graduated from Baylor College of Dentistry in 2002 with a Doctor of Dental Surgery degree. He then completed a general practice residency at the University of Utah Hospital from 2002 to 2003.
From 2003 to 2005, Dr. Peterson attended the Saint Louis University Center for Advanced Dental Education. There he focused on an orthodontic specialty to earn his Master of Science in Dentistry.
Outside the Office
Dr. Peterson and his wife Angie are blessed to have two wonderful children, Luke and Reese.
Dr. Peterson has a love for the outdoors and enjoys spending time mountain biking, skiing, and trail running. He has completed several ultramarathons, including:
Zane Grey Highline Trail 50-Mile Endurance Run
San Juan Solstice 50-Mile Run
Moab Ultimate XC, Rim-Rim-Rim (Grand Canyon)
Leadville Trail 100 Run
The North Face Ultra-Trail du Mont-Blanc (Chamonix, France)
The North Face Lavaredo Ultra Trail (Cortina d'Ampezzo, Dolomite mountains, Italy)
Vuelta al Aneto (Benasque, Pyrenees mountains, Spain)
Trail des Dents du Midi (Champery, Swiss Alps, Switzerland)
Tarawera Ultra Marathon (Rotorua, New Zealand)
Laugavegurrin Ultra Marathon (Iceland)
Telluride Mountain Run (Colorado)
Committed to Knowledge
Dedicated to sharing his knowledge, Dr. Peterson is the clinical orthodontist and instructor for the Winslow Indian Healthcare Center. He works closely with patients, doctors, and residents at the clinic.
Dr. Peterson developed an orthodontic lecture series that he presents to Advanced Education in General Dentistry residents. The course introduces orthodontic concepts useful for private practices in general dentistry or starting a foundation for an orthodontic residency.
Professional Memberships
American Association of Orthodontists
American Dental Association
Arizona Dental Association
Rocky Mountain Society of Orthodontists
Community Involvement
To reach out to his community, Dr. Peterson supports various school, church, and athletic organizations. He is also involved in the Northern Arizona Network for Dental Excellence (NANDE) dental study group.
Dr. Emily Peppers
Education & Experience
Dr. Emily Caskey Peppers grew up in Flagstaff and attended the University of Arizona in Tucson for college. She obtained her Doctor of Dental Surgery degree from the University of Colorado in 2009. In 2010, Dr. Peppers completed a general practice residency focusing on hospital dentistry at the University of Chicago.
In 2013, Dr. Peppers graduated from an orthodontic residency at Loma Linda University in California. There she earned a Master's degree and a certificate in the specialty of orthodontics.
Dr. Peppers' award-winning research has been published by the prestigious journal The Angle Orthodontist.
Outside the Office
Dr. Peppers and her husband, Eric Peppers, have two sons, Chris and John. They all love the outdoors—especially hiking, backpacking, biking, and skiing—and they love Northern Arizona for all the outdoor adventures it offers.
Dr. Peppers has run 10 marathons, including races in Arizona, Utah, Illinois, Colorado, California, and Italy. Her proudest running accomplishment is that she's completed the infamous Imogene Pass Run 10 times!
Professional Memberships
American Association of Orthodontists, the
American Dental Association
Pacific Coast Society of Orthodontists
Northern Arizona Dental Society, President
Northern Arizona Network for Dental Excellence, President